No conflicts of interest declared concerning the publication of this letter.
Dear Editor,
Systemic mastocytosis is a rare condition. The rate of immediate reactions related to anesthesia and surgery in patients with mastocytosis is only 0.4%.1 The physiological stress of surgical procedures and the use of anesthetic and analgesic agents may be triggers of acute hypersensitivity reactions in this condition. Patients with mastocytosis require careful surgical management, especially when general anesthesia is contemplated.2-5 We present a successful case in which intensive perioperative care was applied.
A 35-year-old Caucasian woman presented with a long history of indolent systemic mastocytosis and diffuse urticaria pigmentosa (Figure 1). She had elevated serum tryptase of 35.6 ng/mL (normal value: <11.4 ng/ mL). Her blood KIT D816V mutation was negative. Past medical history included several episodes of perioral angioedema involving the lips and right nephrectomy for hypernephroma, which was considered cured with normal renal function. She had never experienced anaphylaxis. She had concomitant ulcerative colitis well controlled with once daily oral mesalamine (1200mg). About 5 years earlier, she had undergone an uneventful cesarean section with spinal anesthesia. Her mastocytosis was well controlled with daily oral medications: 20mg cetirizine, 300mg ranitidine, 10mg montelukast, 800mg cromolyn sodium, and 2mg ketotifen. She had also been prescribed 0.3mg epinephrine autoinjector (EpiPen), which she never used, and prednisone 20mg tablets as needed for angioedema. She also presented with rectus abdominis diastasis secondary to previous surgical procedures. This complication led to persistent abdominal wall pain that greatly disrupted her quality of life. The patient underwent a successful corrective plastic surgery with general anesthesia using vecuronium and propofol as anesthetics and fentanyl and tramadol as analgesics. On the day prior to surgery, she was premedicated with oral 80mg prednisone, 30mg cetirizine, 300mg ranitidine, 4mg ketotifen, 1200mg cromolyn sodium, and 20mg montelukast. During surgery, she received 50mg promethazine, 150mg ranitidine, and 100mg hydrocortisone intravenously. Vital signs, electrocardiogram and oximetry signals were normal. The only adverse event occurred 3 hours after completion of surgery: a small bilateral periocular angioedema, without respiratory symptoms, that completely subsided in about 2 hours after administration of 40mg of prednisone orally.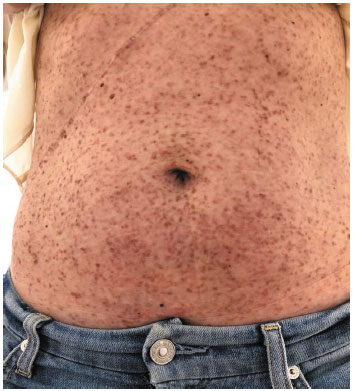 Figure 1
Urticaria pigmentosa in systemic mastocytosis
Patients with systemic mastocytosis have shown an increased rate of reactions to general anesthetics and opioids. Elevated tryptase levels have been associated with an increased risk of systemic reactions. Several drugs, including neuromuscular blockers, can potentially activate mast cells through non-IgE MRGPRX2 receptors, thereby inducing mast cell-mediator release and possibly anaphylaxis.6-7 Patients with systemic mastocytosis should not avoid undergoing required surgical procedures if proper allergy care is provided.
References
1. Matito A, Morgado JM, Sánchez-López P, Álvarez-Twose I, Sánchez-Muñoz L, Orfao A. Management of anesthesia in adult and pediatric mastocytosis: a study of the Spanish network on Mastocytosis (REMA) based on 726 anesthetic procedures. Int Arch Allergy Immunol. 2015;167:47-56.
2. Chaar CI, Bell RL, Duffy TP, Duffy AJ. Guidelines for safe surgery in patients with systemic mastocytosis. Am Surg. 2009;75(1):74-80.
3. Scott HW Jr, Parris WC, Sandidge PC, Oates JA, Roberts LJ. Hazards in operative management of patients with systemic mastocytosis. Ann Surg. 1983;197(5):507-14.
4. Hagen A, Doldersum P, Raaij T. Anaphylactic shock during cement implantation of a total hip arthroplasty in a patient with underlying mastocytosis: case report of a rare intraoperative complication. Patient Saf Surg. 2016;10:25.
5. Carter MC, Metcalfe DD, Matito A, Escribano L, Butterfield JH, Schwartz LB, et al. Adverse reactions to drugs and biologics in patients with clonal mast cell disorders: a work group report of the Mast Cells Disorder Committee, American Academy of Allergy, Asthma & Immunology. J Allergy Clin Immunol. 2019;143:880-93.
6. Lepelley M, Khouri C, Pralong P, Rossignol J, Greco C, Bouillet L, et al. Which opioids in case of mast cell activation disorders? J Allergy Clin Immunol Pract. 2019;7(4):1317-8.
7. McNeil BD, Pundir P, Meeker S, Han L, Undem BJ, Kulka M, Dong X. Identification of a mast-cell-specific receptor crucial for pseudoallergic drug reactions. Nature. 2015;519:237-41.